Van graaien naar delen en de rol van transparantie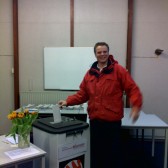 maandag 10 mei 2010

09:42
De graaicultuur van de afgelopen 20 jaar heeft ons uiteindelijk niet veel goeds gebracht. Wij zullen moeten leren te delen. Welke rol heeft transparantie daarbij?
Een aantal weken geleden las ik een column in het Nederlands Dagblad, die mij aan het denken zette. Vergeef mij dat ik de scribent van het artikel niet me weet, maar ik vond het een zeer lezenswaardig stuk. De strekking van de column was dat de financiële crisis is veroorzaakt door een "graai-economie." Het ging het laatste decennium vooral over meer, nog meer en meest. Topsalarissen moesten met torenhoge bonussen worden opgeplust. Niet alleen in de top maar ook in de lagen daaronder: De buren een nieuwe auto, dan wij ook. Niet minimaal 2 keer per jaar op vakantie en klagen maar dat wij het minder hadden dan anderen. Op verjaardagen gingen de gesprekken van over hoge rendementen op de aandelen beurs etc. Niemand leek te beseffen dat het ook wel eens minder zou kunnen gaan, nee iedereen wilde meegraaien uit de overvloedige ruif van het kapitaal.
Welke rol heeft transparantie daarin. Voor het goed laten functioneren van een democratie is een hoge mate van transparantie van belang. Transparantie heeft echter ook een keerzijde. Door bijvoorbeeld salarissen en bonussen openbaar te maken wordt jaloezie enorm aangewakkerd. Iemand met een jaarsalaris van €150.0000, die daar op zichzelf mee tevreden is ziet nu dat zijn collega directeur van een vergelijkbaar bedrijf €200.000 verdient. Hij begint te vergelijken en komt tot de conclusie dat hij te weinig verdient en gaat naar de Raad van Commissarissen.
De RvC gaat overstag vanwege het argument dat het salaris van de directeur niet marktconform is en dat hij in vergelijking met anderen "slecht betaald"krijgt. Gevolg: salaris gaat omhoog, ook de lagen daaronder profiteren tot op zekere hoogte mee.
Zo zijn in de jaren 90 onder kabinetten, waarin de liberalen (VVD/D66) een belangrijke rol hebben gehad veel publieke taken en diensten geprivatiseerd. In een aantal gevallen heft dat tot goede resultaten geleid. Toch zijn er ook vele voorbeelden, waarin het marktdenken tot gevolg heeft gehad, dat de dienstverlening niet beter is geworden, maar dat wel marktconforme salarissen voor de top zijn ingevoerd en dat er veel managementlagen zijn toegevoegd. De zorg en re-integratiebranche zijn daar schrijnende voorbeeld van. Torenhoge salarissen, mooie panden en auto's maar geen extra zorgplaatsen of betere re-integratie resultaten. Gevolg wij betalen een biefstuk, maar krijgen een karbonade.
De hoge salarissen worden verdedigd met het argument dat in vergelijking met anderen de salarissen nog wel meevallen (transparant). Vergeten wordt dat veel geprivatiseerde publiekelijke taken een monopolistische positie hebben en geen "struggle for live"kennen.
Wij gaan nu een periode in, waarin er fors bezuinigd moet worden en een beroep gedaan zal worden op de bereidheid schaarste met elkaar te verdelen, of minder meer voor onszelf te accepteren. Misschien moesten wij, om jaloezie en graaigedrag te voorkomen in een aantal gevallen maar eens iets minder transparant zijn over inkomensgegevens. Zo worden wij hopelijk wat mee tevreden met hetgeen wij zelf hebben en loeren wij niet steeds op anderen.
Moet dan alles in de achterkamertjes? Nee natuurlijk niet, maar transparantie is naar mijn mening niet alles maar zondermeer in de openbaarheid gooien. Transparantie is te belangrijk om te laten degenereren tot een soort van reallifesoap. Transparantie met verstand versterkt de democratie
Op 9 juni 2010 heeft iedere Nederlander van 18 jaar en ouder weer de gelegenheid te kiezen voor een partij die daar naar zijn/haar mening het beste invulling aangeeft. Er valt echt iets te kiezen: Kiest u voor 21 miljard of voor 10 miljard aan bezuinigingen. Kiest u voor afschaffen ontwikkelingssamenwerking of bent u bereid nog steeds van onze overvloed te delen, kiest u voor een land waarin wij leren leven met verschillen of kiest u voor een land waarin die verschillen steeds meer op de spits gedreven worden. Kortom er valt deze keer echt iets te kiezen.
Het zal u niet verbazen dat ik vurig hoop dat u op 9 juni 2010 zult kiezen voor de ChristenUnie. Mocht u het belangrijk vinden dat er en regionale- of plaatselijke kandidaat namens de ChristenUnie naar Den Haag gaat, kleur dan het vakje achter nr 38 van lijst 7 in.